✔ Bascic Information: 1.5in Pile height. Two options of thickness: regular thick and extra thick. PP back side with interlocking system.

✔ Size infor: 1ft by 1ft if each piece of grass tile.

✔ All our synthetic grass rugs are made of 100% brand new high quality masterbatch.

✔ Durable and low maintenance; no mowing, no fertilizers or pesticides.

✔ Natural appearance add instant beauty to your yard, deck, gym decor, balcony, patio or rooftop. Lush and soft, friendly to your childen and pet.

✔ Self-draining system, easy to clean, no need extra care, save your time and money.

✔ Maybe you will feel a little difficult to install the grass tiles, please refer to installation diagram, no adhesive or tools needed.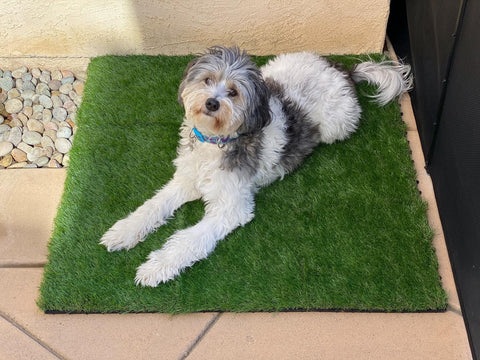 GOLDEN MOON 3-Tone Thick Artificial Grass
Size Options: 1' x 1' 6 Pack ; 1' x 1' 9 Pack
Traditional interlocking (round hole)
 All materials are environment-friendly and the surface can be recycled.We only use 100% new materials which makes our products safe, thus it can be used for children or pets, and it can be used in various areas such as kids' rooms, kindergartens and so on.
GOLDEN MOON passed the SGS flame retardant test. The grass rug will not cause largearea burn when it comes in contact with an open flame, thus can abstain the areas of fire burning.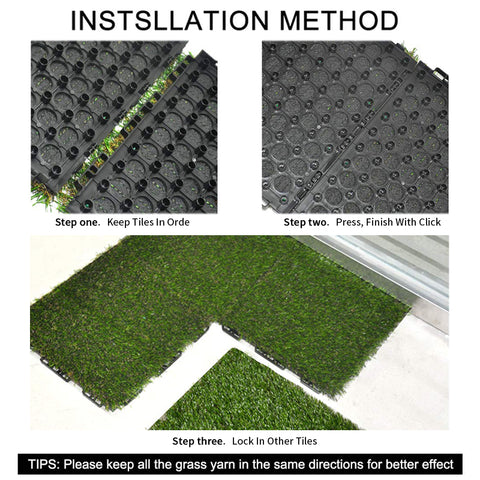 GOLDEN MOON - The Most Dedicated Artificial Grass Manufacturing Experts
Golden Moon exclusive garden Artificial Grass Rug makes your garden like spring all the year round. Also great for outdoor activities,such as party, wedding,camping, picnics, etc.
It's easy to clean, just sweep and wash by hose. There is no need watering, mowing, fertilizing or eliminating the insects.
Artificial grass adopted the principle of bionics production, so there is not big difference between the natural grass and the artificial grass. Excellent flexibility let you feel comfortable. The durable and no fading grass is especially suitable for primary sites for higher frequency. The life span is usually 5 to 6 years for outdoor use.
GOLDEN MOON - Brand And Safety Certificate