Each package contains 3 sturdy steel plant support cages. Support sticks height: 18 inch, 3 rings diameter: 5.5" / 6.3" /7.1"
Tingyuan plant support cages are plastic coated steel stakes, which are very sturdy and durable.
Suitable for growing baby tomato plants and other climbing fruits and vegetables, efficiently and conveniently to keep your plants growing healthily.
These plant supports are easy to use, 3 rings can be adjusted according to your plant size.
Our plant supports are rustproof and with sharpened points on one side for ease of placement.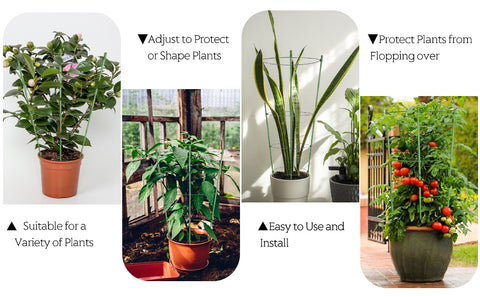 Sturdy and Easy to Store
Triangle structure and plastic clasps makes the product sturdy and help keep plants straight.
Adjustable rings can be hung on nails/hooks on the wall.
Long Service Life
Plastic coated steel supports are rust proof, waterproof, anti-oxidation, sun protection so that they are reusable.
Keep Plants Shape
The rings which are longest and second longest rings can chain flowers, leaves and fruits of different height plants.
The smaller rings help the plant's roots stand.