Extendable Height- Each moss stick is hollow in the middle to connect 2 or more coir poles for extending plant growth.
Unique Design- The bottom of coir totem stick is a wooden tip, which is easy to insert into the soil.
High Quality- Coir totem pole is made of natural coconut shell moss fiber, it can retain water to make plants absorb for growing better and help in training your plant to grow upright.
Package Include- 4 pack coir totem poles, each moss pole is about 17.7 inches long. When the plant grows up, connect 2 or more totem poles together according to your desired length.
Widely Used- Coir Moss Totem Pole is good plants support for monstera, creepers and any other indoor climbing plants.

Coconut Totem Pole can provide additional support for climbing plants and vines.Such as: monstera, creeper and other indoor climbing plants.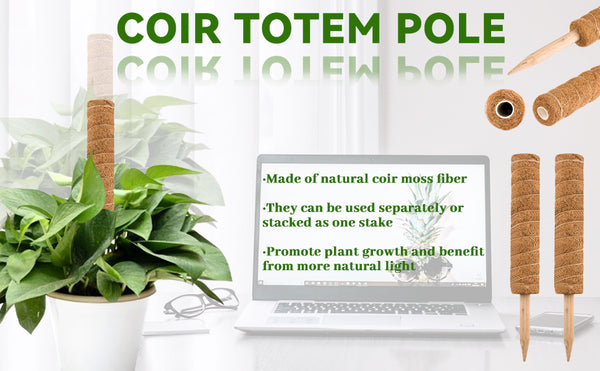 1. Insert stakes into pot of house plant.
2. Use string to tie and attach plant to pole
3. After using moss poles, plants will grow along the moss poles, which can decorate the interior
4. After the plant grows to a certain height, connect 2 or more totem poles together according to your desired length